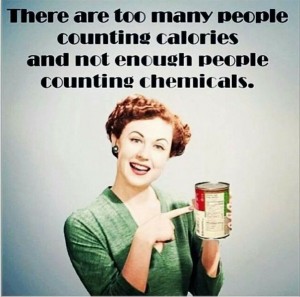 I wanted to address this picture in tonight's post. I don't want to get into the details of calorie counting, but instead talk more about clean eating and reading labels. 
The other night I put on a clean eating workshop for a bunch of ladies at my local church. It was a huge hit! I served up a bunch of DELICIOUS food (an Asian nut sauce,  lettuce wraps, and a green drink), and I talked about what clean eating means to me.
This is my definition: 
eating foods that are nutrient dense, but low in calories 

Or 
 eating healthy, whole, unprocessed foods.
I went on to talk about some of my priorities with clean eating.
1. Unprocessed foods: packaged foods 
If you're going to eat packaged foods, shoot for  5 ingredients or less. Although, if you can't read the ingredients because they're some crazy chemical, put it back on the shelf!
In my example in the clean eating workshop, I pulled out a can of cream of chicken soup. Holy Moly! That thing is loaded with crazy ingredients: MSG, modified food starch, soy protein concentrate. Blah.  
2. Choose unrefined over refined foods.
-refined carbohydrates include packaged cereals, white bread, white rice, pasta, cakes, biscuits, sweets, candy, pastries, pies, white flour, beer,
-unrefined carbohydrates include brown rice, beans, oatmeal, bran cereal, millet, barley, couscous, wheat, vegetables, lentils, herbs, lamb, poultry and other wholegrain products.
3. Include some protein, carbohydrate and healthy fats (omegas and monounsaturates) at every meal.
4. Watch out for bad fats (trans and saturated) salt, and sugar. 
Clean sugars include honey and maple syrup…stevia is a great all natural sweetener (check out https://www.marksdailyapple.com/stevia/)
5. Eat five to six small meals throughout the day.
–keeps blood sugar in check
6. Don't drink your calories. 
DRINK WATER! 
7. Get moving.
If what you're eating is helping you look, feel, and perform your best, then hey, you're doing great. If not, something needs to change…let's talk more!
I served the Asian Nut Sauce with some carrots and celery and the ladies couldn't stop eating. It's that good!