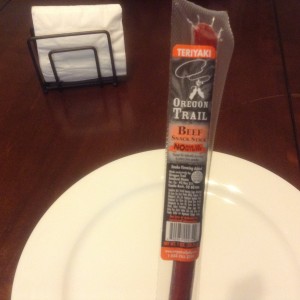 I received a comment that asked me to share some of my snacks and what I eat throughout the week. This first post will be dedicated to my out the door snacks. Here are my top 3! Jerky, Chia Squeeze, and LaraBars. All high in nutrients loads of energy!! Lots of wonderful ingredients. I prefer to get my jerky from stevespaleogoods.com, but that can get pricey, so I only do it occasionally. 
Of course, I like to take fruit with me, too, like bananas, berries, oranges, as well as nuts.  I also make my own trail mix that includes: shredded unsweetened coconut, pumpkin seeds (also called pepitas), mixed nuts, and some dark chocolate covered cranberries. You can get totally creative with trailmix; different kinds of nuts, raisins (I don't like raisins too much), different seeds, etc. 
I get all of these at Sprouts, a health food store here in Orem. I'm sure wherever you live, you can find them in your local health food store or something very similar.