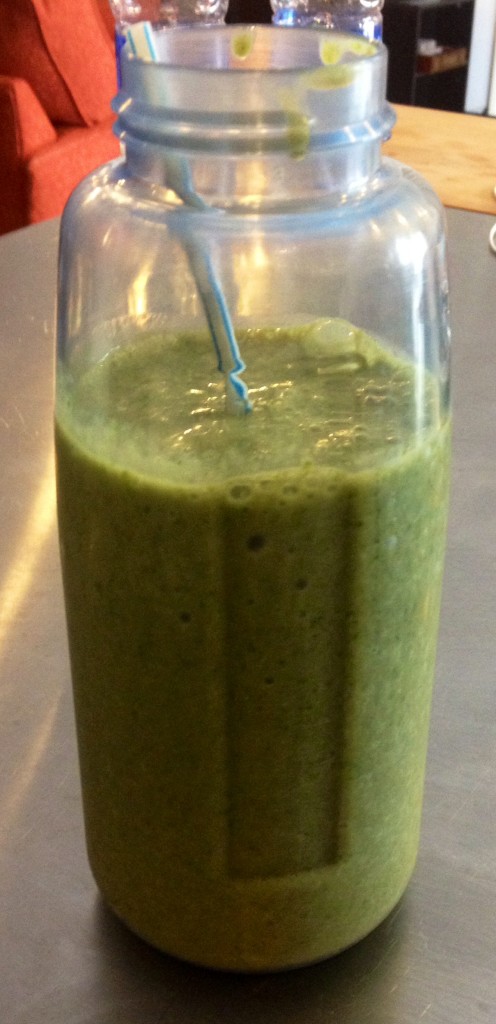 Whipping up a smoothie is a quick and easy way to eat your fruits and veggies, get a good amount of nutrients and fiber, not have to prepare too much for a meal, and enjoy a nice, refreshing beverage. I love to make a smoothie when summer time rolls around. There are so many different combinations; don't be afraid to be creative. Try mixing things and make your own concoctions or, check out recipes online. Some things to remember: spinach is a great green vegetable to use in smoothies, along with celery, kale, cucumbers and parsley. Fruits that pare well with these green veggies include: bananas, blueberries, strawberries, apples, kiwis, mangos and pineapples. There are no combinations of fruits and vegetables that should be avoided, unless it's your own personal taste that says otherwise.
So why all the hype over a drink that looks like green mud? Here are 5 top reasons to indulge with a green drink:
1-       If you don't like eating your vegetables, you can drink them instead!
2-      Green smoothies are good sources of minerals and vitamins.
3-      Drinking smoothies can help you stay hydrated.
4-      You can have Beautiful and Radiant Skin.
5-      Green smoothies give you Energy, Energy and more Energy!
I know I said 5, but you can't forget this one:
6-      They are easy to make.
There are many more benefits associated with drinking green smoothies. Ultimately, it's a great way to incorporate some healthy foods into your lifestyle. One thing to remember, however, is that everything should be consumed in moderation. You don't want to go overboard with fruits in your smoothie. While the sugar in a fruit is natural, it's still sugar.
Enjoy some Green Machine Power today!
2 cups fresh spinach
2 cups water
1 cup mango
1 cup pineapple
2 bananas
Long Live, Living Long
SS