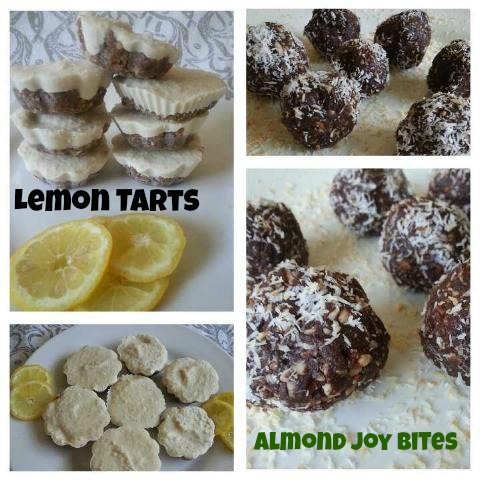 Again, this girl (Kjell), has sweet tooth. Yes, I will enjoy the "real" stuff on occasion, but I like to find other alternatives to feed the need!
Here are two healthy treats I made tonight. If you haven't yet, check out the Almond Butter Chocolate Cups, which are my fave!
Prep Time: 15 minutes
Total Time: 15 minutes
Yield: About 40 energy bites
Ingredients
12 oz. (about 2 cups, loosely-packed) Medjool dates (**see note below about types of dates and substitutions**)
2 cups almonds
1/2 cup shredded coconut
1/2 cup unsweetened cocoa powder
1 Tbsp. coconut oil
1 Tbsp. vanilla extract
1/2 tsp. almond extract (optional)
Method
Add dates and remaining ingredients to a food processor. Pulse a few times to combine, then use a rubber spatula to scrape the sides of the bowl. Blend the mixture for about 3 minutes, or until the mixture has moved past the crumbly stage and begins to clump and stick to the sides of the food processor.
Use a spoon or small cookie scoop to measure out a tablespoon of dough (or your desired size) and roll it into a ball. If desired, roll the ball in a bowl of coconut flakes. Or just set it aside to eat as-is. Repeat with the remaining dough. (Alternately, you can flatten the dough into the bottom of an 8×8-inch parchment-lined baking dish, then cut it into bars.)
Store the energy bites in an airtight container for up to 2 weeks.
**I used Medjool dates in this recipe, which are already nice and soft. If you substitute another kind of date, you may need to soak them in warm water for 10 minutes first in order to soften then. (Then drain them before using.) 
Here's a PDF of the recipe—–>Almond Joy Energy Bites
Healthy Lemon Tarts
by mywholefoodlife.com
Ingredients
For the crust:
For the filling:
Instructions
In a food processor, combine the ingredients for the crust. You will get a wet, loose dough.
Press the dough into greased tart shells. I used 4 inch tart shells and got 4 tarts. You can probably do o 1 large tart as well.
Stick the tart shells in the fridge to firm up while you make the filling.
Combine all the filling ingredients in a food processor or blender and blend until smooth.
Pour the filling into the tart shells and stick them back in the

fridge to firm up. I would give them a good 4 hours to set. If you can wait overnight, that is even better.
here is a PDF—>Healthy Lemon Tarts
There are an endless number of healthy treats out there. No need to always go for the processed, sugary, high calorie ones!
Enjoy, my friends!
If you're in need of an awesome workout, check out the most recent workout: Killer Total  Body