Stop what you're and go get the ingredients for this recipe. Seriously, this is so easy and quick, it'll blow your mind. This meal is just bomb-diggity. I made it for a party last week and there wasn't anything leftover. I made it again today for lunch and can't wait to have it for dinner!! You can also cook up some brown or white rice to throw on your lettuce wraps to make it a really dense meal.
Thanks to my client, Lee, for sharing the recipe with me, which she got from this site. And now, I want to share it with all of you.
Here are some things I did different:
1)I didn't have peanut butter so I used macadamia nut butter, and I'm sure you could use almond butter, too. I personally like the peanut butter a little bit better last week when I used it.
2)I used Bragg's Liquid Aminos instead of regular soy sauce because it's gluten free. 
3) I decided to also cut up some Napa Cabbage to throw in.
4) And for this one, to make it kid-friendly, I only used 1 teaspoon of the chili garlic sauce, but would HIGHLY recommend using two if not sharing with kids. I like a little extra spice, but it's not too spicy with the 2 teaspoons for adults, but probably is for kids.
5) I use butter lettuce for wraps, but also like to use romaine, which doesn't hold as well, but it's more nutritionally dense. 
6) I used chopped up almonds at the last instead of peanuts; i'm not a fan of peanuts.
7) I used ground up ginger instead of the fresh ginger because I didn't have it!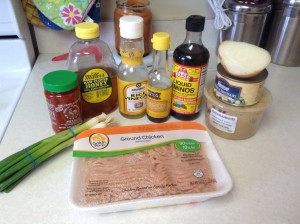 Ingredients:
1lb ground chicken breast
1/2 onion, minced
salt & pepper 2 garlic cloves, minced
1″ knob ginger, peeled & minced
2-1/2 Tablespoons soy sauce
1 Tablespoon + 1 teaspoon rice vinegar
1 Tablespoon sesame oil
1 Tablespoon peanut butter
1/2 Tablespoon water
1/2 Tablespoon honey
2 teaspoons chili garlic sauce (or more if you like it hotter)
dash of pepper
3 green onions, chopped
1/2-8oz can sliced water chestnuts, drained & chopped
1/4 cup peanuts, chopped
10-12 large outer lettuce leaves, rinsed and patted dry
<————( I cannot figure out how to remove these silly little dots!!)                        
Instructions:
Heat a large, non-stick skillet on high. Add chicken, onion, salt and pepper then cook until chicken is nearly done, stirring often to break up the meat. Add garlic and ginger then continue cooking until chicken is no longer pink.




Meanwhile, in a microwave safe bowl, combine soy sauce, vinegar, oil, peanut butter, water, honey, chili garlic sauce and pepper. Microwave for 20 seconds, then stir until smooth. Add into the skillet and stir to combine.




Add green onions and water chestnuts into the skillet then cook for 1-2 minutes until the onions are soft and the water chestnuts are heated through.

Sprinkle with chopped peanuts (or almonds!), and serve with cold lettuce leaves.